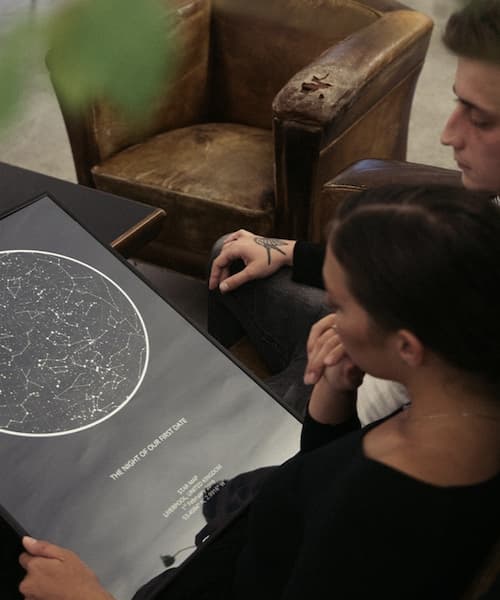 Bespoke Sympathy Star Maps for Heartfelt Remembrance
We craft our star maps with sensitivity and care. Each personalised sympathy star map provides a snapshot of the celestial arrangement on a significant date, giving a comforting reminder of a loved one that is no longer with us. Offer a bespoke sympathy gift that honours their memory forever.
Our personalised star maps take a snapshot of the stars in the sky at a special or defining moment, immortalising a memory.  Each sympathy constellation gift is crafted to capture the unique alignment of stars on the day or night of this moment, creating a unique and beautiful piece of art that represents someone far away who is loved and missed.
Create the perfect personalised gift
Starry Remembrances for Lasting Memories: A Personalised Sympathy Gift
Pay tribute with a thoughtful gift to bring comfort in times of loss. Customise the style, colour, frame and include a personal message to create a meaningful keepsake that celebrates and remembers a loved one. Simply type the date and location of a special memory and the exact configuration of stars will be displayed. To make your sympathy astronomy gift even more personal, why not include a personalised poem or add song lyrics to your design?
How it works
Our Star Map builder is easy to use and with our step-by-step
process you'll have a personalised Star Map in no time.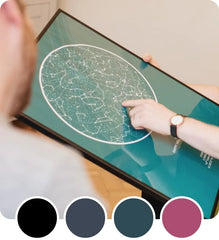 We have a range of Star Map styles and colours to choose from that suits every taste.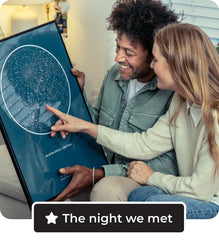 Add your own personal message to the Star Map, and choose the date and location of your choice.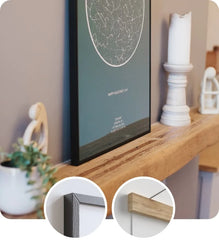 We'll deliver your Star Map in a beautiful presentation box, ready to be framed.