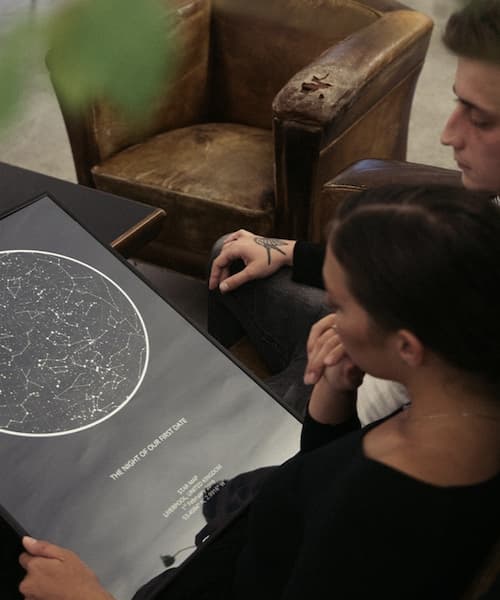 Timeless Gifts with an Engagement Star Map
An engagement star map is a wonderful way to capture an occasion through art that celebrates a magical moment. Our personalised star maps take a snapshot of the stars in the sky the exact moment you - or a special couple - decided to wed. The moment of your love story with a celestial turn, create a Maps for Moments custom star map. 
Each map is crafted to capture the unique alignment of stars on the night of your engagement, creating a stunning art that represents the everlasting connection between you and your partner.
By choosing a night sky engagement gift, you'll be reminded of the sparkling future that lies ahead. Buying for a lucky couple? Let them know how special it is that out of the billions of people in the world - like stars - they finally found each other. 
Create your bespoke constellation engagement gift today and capture the night sky as it was the day they popped the question. A star chart is an engagement gift that lasts - a beautiful framed artwork that is intensely personal to them, or you.
Create your engagement star map
Create A Personal and Unique Engagement Gift
For a love that's written in the stars. At Maps for Moments, we craft beautiful star maps that present the unique alignment of stars when you popped the question. Add a special touch to the celebration with a Maps for Moments custom star chart - an engagement gift that stands the test of time.
Or maybe you're getting ready to propose! So, why not do it with a star map? Personalise the style, colour and complete with a heartfelt message. Simply type where and when and the exact configuration of stars will be displayed. Why not personalise your constellation engagement gift further with a customised message, poem, lyric or quote to sit beneath the stars?
How it works
Our Star Map builder is easy to use and with our step-by-step
process you'll have a personalised Star Map in no time.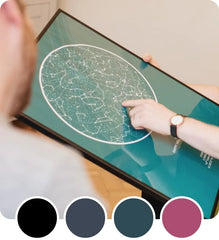 We have a range of Star Map styles and colours to choose from that suits every taste.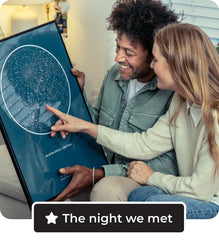 Add your own personal message to the Star Map, and choose the date and location of your choice.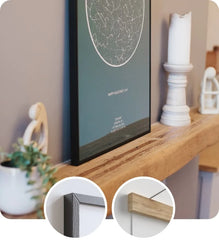 We'll deliver your Star Map in a beautiful presentation box, ready to be framed.