Frequently Asked Questions
Order
Our astronomically-accurate star map posters and amazing customer support team guarantee you will be extremely satisfied with your order! We carefully print and inspect each of our orders and re-print it before it's shipped out if the quality is not perfect!

Our customer service team is always ready to help you with any queries you might have. Every order is shipped from our office in the UK, using Royal Mail 24, or Royal Mail Next day Special services to get your star map to you as quickly as possible. Each order placed before 3.50 PM is guaranteed to leave the very same day!
If you've purchased a coupon from a 3rd party website in order to redeem on our website, all you need to do is create your star chart and apply your coupon once you are on the Shopping Basket page. To use the coupon, simply click on "I HAVE A COUPON" located underneath your starmap details (on mobile) and in the top right corner on Desktop and Tablet.
Please note you will first need to create your poster and then redeem it with your coupon.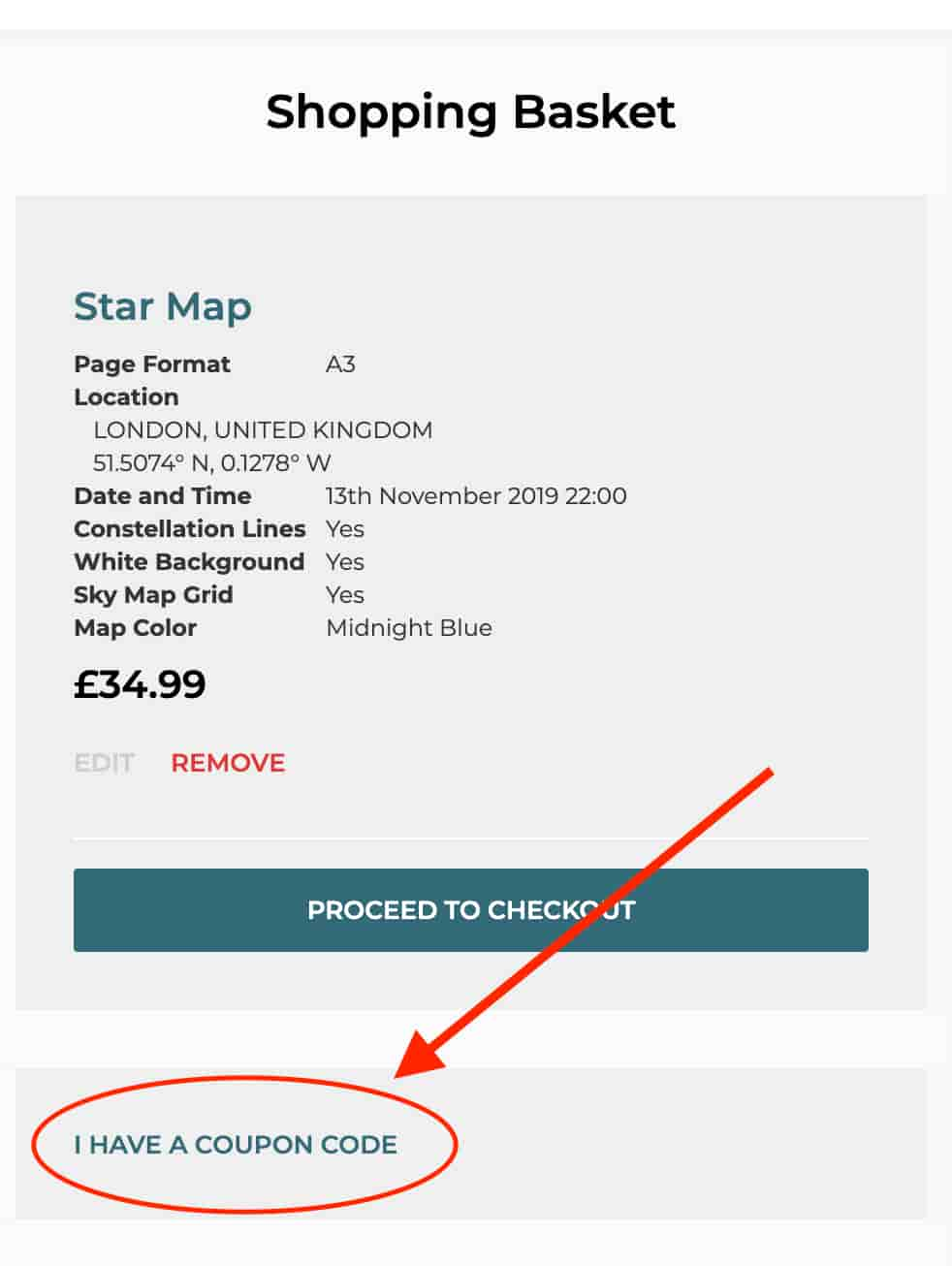 You can write anything you want in the personalised message section. The poster allows for 2 lines of text, for example, you can choose lyrics from your favourite song or you can write something like "A special gift to mark a special day... Lots of love, Mandy xx" or simply leaving it blank.
If you still feel stuck, check out our instagram account @mapsformoments to see what others have written.
Our Posters
Don't sweat, we understand mistakes happen so were here to get them fixed for you 7 days a week. Just contact us via live chat, free phone or email support. We always fix errors regardless if an order has already been placed so sit tight once you've contacted us, we've got it covered.
Any typo's requested once the order has been shipped will incur a small fee to cover printing and shipping costs, depending on poster size purchased so please contact us via live chat as soon as you have identified the typo.
The difference comes from the number of stars shown on each of the three night sky poster sizes.
The A2 is twice as big as the A3 star map, and the A3 is twice as big as the A4. Due to A3 and A4 being smaller, it's harder to show the smaller stars on them. Therefore, the A2 - Large star map will have the highest accuracy with most stars shown as compared to Medium and Small posters.
All posters are printed on same quality paper using the same printers and going through the same strict quality assurance process! Go to our Star Map Builder to find the right poster size for you!
We use an astronomically verified algorithm to generate your unique star map. We use a location (the observer point) and a date to generate your star map. Our database is formed of hundreds of thousands of stars accurately positioned from the European Space Agency's database of stars. Rest assured, our team of astronomers took great care to make sure your poster is as accurate as possible!
We've worked hard and thoroughly tested our star map algorithm against a multitude of scenarios. We use an up-to-date database of stars from the European Space Station to make sure the stars positions are as accurate as possible. Our secret algorithm has been astronomically verified to make sure it's as accurate as possible. To get the most accurate poster with most stars on it, we suggest having a look at our A2 night sky poster. Please do keep in mind the free star map preview option only shows a fraction of the stars present on the version we ship to you.
The second part of creating the perfect star map is tweaking our printing process to make sure even the smallest of stars will be visible on the final product! We are confident you will be very happy with your order!
Shipping
All orders placed before 3.50 PM are guaranteed to be sent the same day. All orders are sent Royal Mail 24 free of charge and should be with you within 1-3 working days. If you want guaranteed next day delivery please choose Special delivery to get your star map before 1 PM the very next day!

Shipments outside the UK take 2-5 working days to EU Countries and 3-7 working days outside the EU.
We're very sorry your order hasn't arrived with you! On some occasions, couriers may experience an unexpected delay, so it may take a day or so longer than the estimated date. If your order is running late, please do get in touch with our customer support team to chase this up with the courier and confirm that your order has been shipped to the correct address.
We're so sorry to hear your order has arrived with you damaged. All our orders are individually checked for errors and re-printed, if necessary, before they're dispatched to make sure you will always get the best quality there is. If your order has arrived damaged please get in contact with our customer service team with pictures of your damaged package and we will arrange to have your order re-shipped to you as soon as possible.